Fire Damage Restoration Services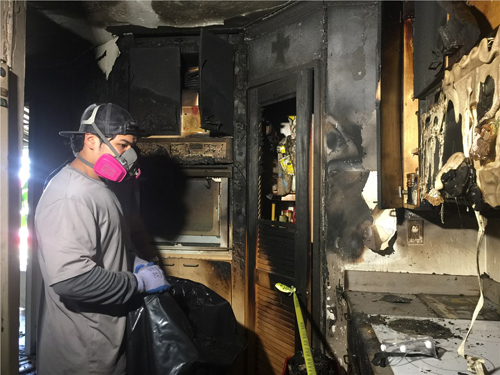 A fire accident occurs suddenly without warning. And depending upon the type of fire and where it started, if it is not contained, the damages can be devastating. Now, the most important aspect is to ensure there is no loss of life or limb. If people are safe, that is a good thing. It is only the property that is affected. This can still be revived. Yes. The fire has damaged all things in your home or office. But the structure still stands intact. Now, you need to move on and gather your bearings and assess the extent of damage.
This is when you reach out to a fire damage restoration and cleaning service like Bright Aire. We specialise in fire damage restoration and we have the knowhow and also the people and equipment to ensure that the fire damage or water that was used to douse the fire has not extensively damaged the interiors of your home.
Accordingly, we embark on a fire damage restoration process. As part of this:
We assess and evaluate the actual fire damage. Also if water damage is present, then determine our restoration efforts accordingly.

The soot and smoke damaged things are treated and cleaned and brought back to a pre-fire condition.

The water is extracted and it is followed by a thorough drying, deep cleaning and sanitizing process.

The smoke odour is eliminated by a round of drying and airing the place.
Our efforts in a fire damage restoration service are dependent of course on the extent of damage. If anything is burnt or damaged beyond repair or restoration, then it will be discarded. We at Bright Aire try and ensure that the damage or loss is as minimal as possible. And only if it is inevitable do we discard or remove.
If you are looking for flood and water damage restoration and cleaning services, then on an emergency basis, connect with Bright Aire on our mobile number- 0418 710 407 or you may call us on 07 5443 9000. If you want to email us, write to-info@brightaire.com.au.