Leather cleaning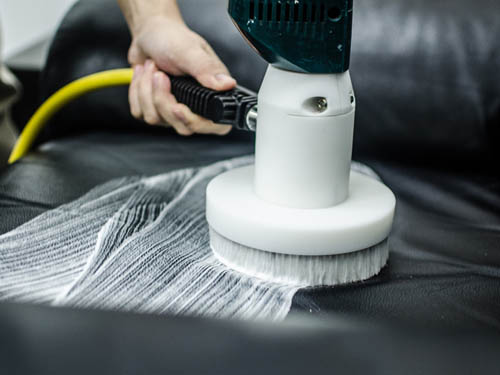 It is a well-known fact that when you indulge in an all-leather furniture for your home or office, you are aware that it needs to be taken care of and maintained so that you extend its longevity. Any leather furniture you own is an investment that renders an aesthetic appeal. Leather is easy to maintain and very durable too. But, if it is not well-maintained, then any signs of wear and tear are instantly noticeable.
That is why you should engage in periodic leather cleaning and only get experts and professional cleaning service companies who offer leather cleaning as part of their service portfolio. This is where we at Bright Aire step in. Leather cleaning is a service we offer and we know how to help maintain the look and feel of your leather furniture while not damaging the texture and the finish.
Just as any furniture, your leather furniture too can accumulate dirt, dust, grease, body oils, and sweat and can get soiled. That is why you need leather cleaning experts to take care of the leather cleaning service. Professional cleaners know what type of cleaning products has to be applied and how to apply it too. Most often, it depends on the type of leather furniture.
Different leather finishes need different approaches. And leather furniture needs to be protected as much as it is cleaned. And most of all, over time the leather furniture will need a round of restoration too which Bright Aire will handle.
If you want leather cleaning services, contact, Bright Aire on 0418 710 407 or call us on 075443 9000. Email us at-info@brightaire.com.au.