Stain removal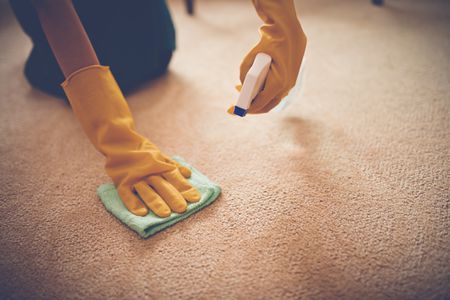 Stain build-ups on your carpets, furniture, mattresses, rugs and even the upholstery in your home or workplace is quite natural. If you have pets or children at home, you can be sure that stains of all sorts can be spotted on the carpets, sofas and your mattresses. Stains are a blemish that is noticeable and if it lingers on, it gives a very bad appearance to the sofas, upholstery or even carpets in your home.
That is why, Bright Aire offers a stain removal service as a separate cleaning service. We understand stains like no other. And there are many different types of stains that range from very hard-hitting tough stains to low, easy to eliminate stains.
Our stain removal specialists will first identify the type of stains and then work to having it removed effectively. Stains can be of many types. It could be coffee or tea, beverages, food, sauces, wine, paw marks, dirt, spills, paints, ink, marker stains and more.
We use our expertise combined with stain removal products and tools to ensure that the carpets, rugs, upholstery, sofas, couches and mattresses are stain-free, and it looks all neat and inviting.
We also have another process and that is on future occasions, you can prevent stains from building up with our stain protection measures. You can check out with us and talk to us about this.
For anytime stain removal services, contact Bright Aire on 07 5443 9000. You can email us at-info@brightaire.com.au.